10 Healthy Homemade Recipes for Dog Food & Organic Treats
November 5th, 2015
Homemade food is not only nutritious for you and your family; it also keeps your pets healthy. This is especially true when you have puppies. Puppies go through a period of rapid growth and development in which it is vital they receive a balanced nutrition. During their growth period, puppies need high caloric content and the right nutritional supplements to build strong bones and teeth. This helps in adding muscle and providing them with all the energy they need to learn, play and grow.
Commercially manufactured dog food such as dry kibble includes fillers, meat by-products, and a host of other unwanted and unknown ingredients. This is why a great alternative to canned pet food is homemade, organic dog foods and treats. Homemade dog food and treats are an excellent way for you to provide your dog with healthy and nutritious foods. By making the food yourself, you can control what ingredients your dog is consuming. What's more, if your dog has allergies and intolerances to certain types of ingredients, you can avoid them in the foods that you cook for them. The result is treats and foods that are fresh, nutritious, and a much healthier alternative to store bought foods.
Listed below are ten recipes for organic treats and homemade dog food that you can try out for your puppy.
Organic Treat Recipes for Dogs
You'll be hard-pressed to find a puppy that doesn't get excited at the prospect of treats. The mere sight of a delicious, crunchy biscuit shaped like a bone is enough to send their little tails into a frenzy.
Homemade, organic treats are loaded with a variety of healthy and delicious ingredients such as vegetables, fruits, meats, and whole grains. These treats can also help keep your puppies healthy if you stick to ingredients that are low-fat, organic, and have a low sugar content.
Check out these five nutritious and delicious puppy treats:
Peanut Butter & Oatmeal Cookies
You're not the only one who can't get enough of peanut butter: dogs adore peanut butter, too! Make sure you buy organic peanut butter, or, better yet, whip up a batch of freshly made peanut butter yourself.
Ingredients:
2 cups flour (white or whole wheat, depending on whether your dog is allergic to wheat)
1/3 cup organic peanut butter
1 cup rolled oats
1 ¼ cup hot water
½ tablespoon fish oil
Directions:
Preheat the oven to 350 degrees Fahrenheit
In a large mixing bowl, combine all of the dry ingredients
Add in the peanut butter and hot water and mix until the batter is smooth
On a lightly floured surface, knead the dough for a couple of minutes
Roll out the dough to about ¼" thickness and use cookie cutters to cut out shapes
Bake for 40 minutes on a lightly greased cookie sheet
Allow cookies to cool completely before serving
Sweet Potato Chewies
Just like babies, puppies need a healthy dose of vegetables, too! Sweet potatoes are an excellent source of dietary fiber and contain vitamin B6, vitamin C, beta carotene, and manganese.
Ingredients:
Directions:
Preheat the oven to 150 degrees Fahrenheit
Wash and peel the sweet potatoes thoroughly
Slice into ¼" strips or slices
Bake in the oven until the potatoes reach the consistency you want (chewy or crunchy)
Scrumptious Pumpkin Muffins
Muffins are a great snack, especially on the go! The same holds true for puppies. At this age, your pup is likely to be bouncing all over the place. That's why it's great to have a few of these muffins handy which are loaded with fiber and energy for your pups.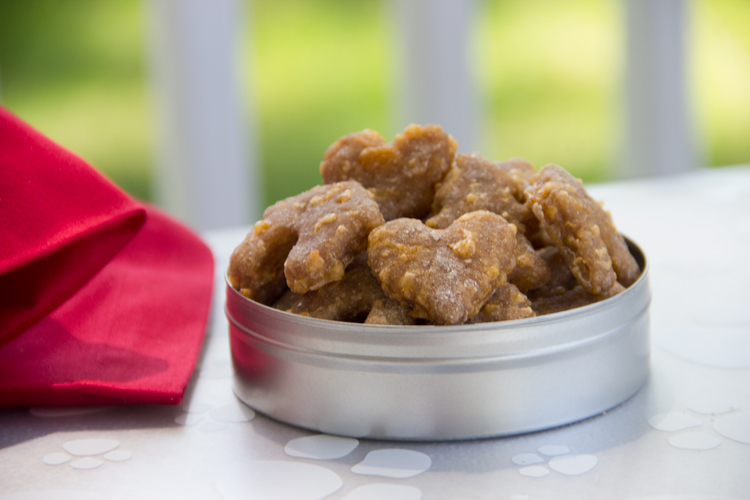 Ingredients:
1 cup flour (whole wheat, oat, or white)
½ cup pumpkin puree
1 cup rolled oats
1 tablespoon organic coconut oil
½ teaspoon organic vanilla extract
1 egg
¼ cup Greek yogurt
½ teaspoon organic honey
¼ cup water
1 teaspoon ground cinnamon
1 teaspoon ground ginger
Directions:
Preheat the oven to 350 degrees Fahrenheit
Put oats in a food processor (or blender) and pulse until they become half powder
In a large mixing bowl, mix together pulsed oats along with all the other remaining ingredients
Spoon batter into a lightly greased mini muffin tin
For added crunch, sprinkle the tops of each muffin with some oatmeal
Bake in the middle of the oven for about 15 minutes or until the muffins have turned golden brown
Chicken Jerky Strips

These delicious, freshly prepared strips of chicken jerky are packed with protein for your growing puppies. They're also chewy, and therefore are a great snack for teething puppies.
Ingredients:
Chicken breasts (the exact quantity will depend upon how many jerky strips you wish to make)
Directions:
Preheat the oven to 200 degrees Fahrenheit
Remove excess fat from the chicken breasts and then, using a paring knife, slice the chicken breast into 1/8 inch thick strips
Place the chicken strips on a baking sheet and bake them for 2 hours
Before taking them out from the oven, make sure the strips are dry and hard
Allow the strips to cool completely before storing or serving. The chicken jerky strips can be kept in an airtight container in the fridge for up to two weeks.
Fresh Fruit Doggie Pops
When it's hot outside, it's good to have cooling treats handy for your active puppy. These healthy frozen treats are great for warm summer days, after a play session, or a walk.

Ingredients:
2 cups of fresh fruit (use dog friendly fruits such as blueberries, strawberries, apples, pineapples, etc.)
6 oz. plain Greek yogurt
Water
Directions:
Chop whatever fruits you are using into tiny pieces and mix them in a large mixing bowl. If you are using apples, make sure to peel the skins off as apple skins are not good for dogs
Stir in the Greek yogurt
Stir in a small quantity to make the consistency of the mixture like milk. This is important as it ensures that the fruit pops will freeze properly
Pour the mixture into small molds or an ice try and freeze them
Healthy Homemade Dog Food Recipes

Puppies need healthy food during their formative years to ensure that they get all the vitamins and nutrients they need for growth and development. By making food for your puppy at home, you can control what foods they eat, and consequently, what nutrients they receive. Making homemade dog food is also a far healthier alternative to store-bought, processed foods.
Here are some easy, healthy, and nutritious recipes for you to try out for your pup.
Hearty Dog Food
Puppies have voracious appetites, and they typically eat more frequently than adult dogs. This hearty dog food recipe is loaded with grains, protein, and nutrients and is sure to satisfy their hunger.
Ingredients:
1 pound of meat or poultry (beef, chicken, turkey, etc.)
2 cups of grains – brown rice, oats, or barley
2 cups beef or chicken broth
3 cups water
2 cups freshly chopped vegetables (one bag of frozen veggies will do, too)
Directions:
In a large pot, brown the meat over a medium flame
Add in the vegetables
Add the stock, water, and grains and bring to a boil
Reduce the heat and allow the food to simmer for 20-30 minutes
Once all the liquid has been absorbed, remove from heat and allow to cool
Beef Dinner
As opposed to buying cans of wet food at the pet store, why not make your own version of moist, nutrient-packed dog food? This beef dinner contains loads of proteins, in the form of both eggs and meat, so that your puppy can grow strong and healthy. It's also packed with nutritious vegetables and grains which makes for a balanced meal.

Ingredients:
10 pounds of ground beef (or turkey)
5 cups of grains – white or brown rice, lentils, barley, or oats
10 whole eggs, cooked or raw
3 cups of fresh mixed vegetables
Directions:
In a large pot, cook the meat and grains until it becomes soft
Near the end of the cooking, mix in the vegetables and eggs
Take off heat and allow to cool
Once cooled, divide the mixture into portions and freeze or refrigerate
Chili for Dogs
Here's another food option that is packed with protein. Growing puppies need protein so that they can remain healthy and active. This chili for dogs not only has fresh meat, it also has protein rich beans.

Ingredients:
4 large chicken breasts
1 cup of chopped carrots
1 cup kidney beans
1 cup black beans
½ cup tomato paste
4 cups chicken broth
½ tablespoon fish oil (optional)
Directions:
Remove the fat from the chicken breasts and dice them into very small pieces
In a skillet over medium heat, cook the chicken breasts until they are no longer pink
In a large pot, add the cooked chicken, chicken broth, tomato paste, beans and carrots and cook on a medium heat for 15 minutes
Allow the chili to cool before serving
Rice, Chicken, and Broccoli
Ah, broccoli; the vegetable that everyone seems to have a love-hate relationship with. You may have refused to eat it at one point in your life, but chances are, you're now a big fan. Broccoli is a vegetable loaded with nutrients, calcium, and vitamins. This recipe makes good use of this powerhouse of a vegetable to give your puppy a well-balanced meal.
Ingredients:
5 pounds of chicken
5 cups of rice – white or brown
3 cups of chopped broccoli
5 eggs – raw or cooked
3 tablespoon olive oil
Directions:
In a large pot, boil the chicken and rice until the chicken is completely cooked
Stir in the broccoli and simmer for 10-15 minutes
Allow the mixture to cool before adding in the eggs and oil
Fruity Dinner
Some fruits are very good for dogs such as berries, apples, and melons. There are also fruits that dogs should never eat, such as grapes and fruits that they don't care for, such as citruses. By incorporating some dog-friendly fruits into your puppy's meals, you can boost their nutrient intake.
Ingredients:
3 cups of finely diced fruit – melons, apples, pineapple, pears, berries, pitted cherries
3 cups of cooked rice – white or brown
2 pounds of cooked chicken – finely shredded or chopped
Non-fat yogurt (optional)
Directions:
In a large bowl, toss together all of the ingredients and store or refrigerate for up to 5 days.
Add in some non-fat yogurt if you wish to moisten the food
Be careful not to overdo the fruits because too much fruit can upset your dog's stomach
Making your own homemade, organic puppy foods and treats can go a long way in ensuring the health of your puppy. In these formative years, it's important to provide your puppy with wholesome foods which are packed with the nutrients they need in order to develop and grow. Organic meats, poultry, vegetables, fruits, grains, and dairy contain the necessary vitamins and nutrients needed for wholesome meals for your puppies. These easy and healthy recipes are also cost effective, and can be stored in your refrigerator for use over a couple of days. Feed your puppies healthy, organic foods and treats and watch them flourish and grow.

People who loves their pets buy these foods